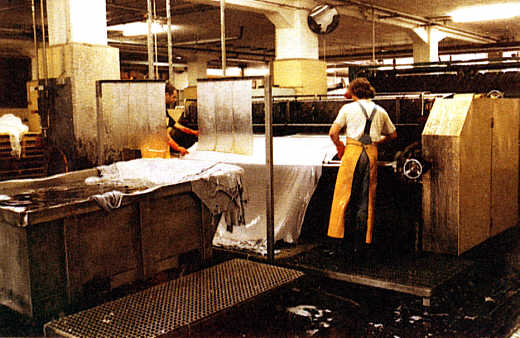 Leather Pros known also by The Tannery and The Tannery Leather Services is a company that has served the global community for 3 generations, today, owned and operated by Mark Balian known by most as an incredible leather technician and refinisher.
Mark's grandfather built a tannery overseas after World War II working with Mark's father and uncle who helped run the facility. When Mark was 23 years old, he started working for the family's tannery business.
He was fascinated with the art and science, as well as the business side of this, so when he finished college, he helped his dad with the entire tanning process; from purchasing the hides, to treating and tanning them, to finishing them ready for use to make apparels.
When Mark immigrated to the United States, the only thing on his mind was to continue working with leather, yet his direction chosen would be the concentration on the refinishing aspect. His first project would be to refinish a red seat of a Ferrari. Educated in the science and with the generations of experience before him, when the Exotic Car Rental called him to refinish a car seat, he went with his air compressor and tools, and refinished the red driver-side car seat on the spot.
"You should have seen how the tourists were taking picture of me working on the seat! Afterwards, the same rental company referred me to a private owner of a 1967 Porsche. This time I brought the car to my shop (the same shop which I'm still working in) and refinished all the seats. Next, a private customer who owned a navy Rolls-Royce with white interior (which turned ivory overtime) wanted me to refinish the interview to its original white color. When It was finished, he was so thrilled and amazed at my work, that he paid me double than what I asked for."~ Mark Balian
After, the phone never stop ringing, from a shoe repair chain stores called Shoe Wiz and Shoe Doctor to several high-end handbag brands, shops and department stores.  From high-end handbags brands, such as: Chanel, Hermes, Gucci, to Bottega Veneta, etc… Now, from eBay shoppers to private clients send their expensive bags from all over the world to Mark Balians Shop.